Prism Calendar, Courtesy of Dr. Robert Reid.
Name:___________________________________
Baseline weight on Day 1:___________ Lbs. or Kg. (circle 1).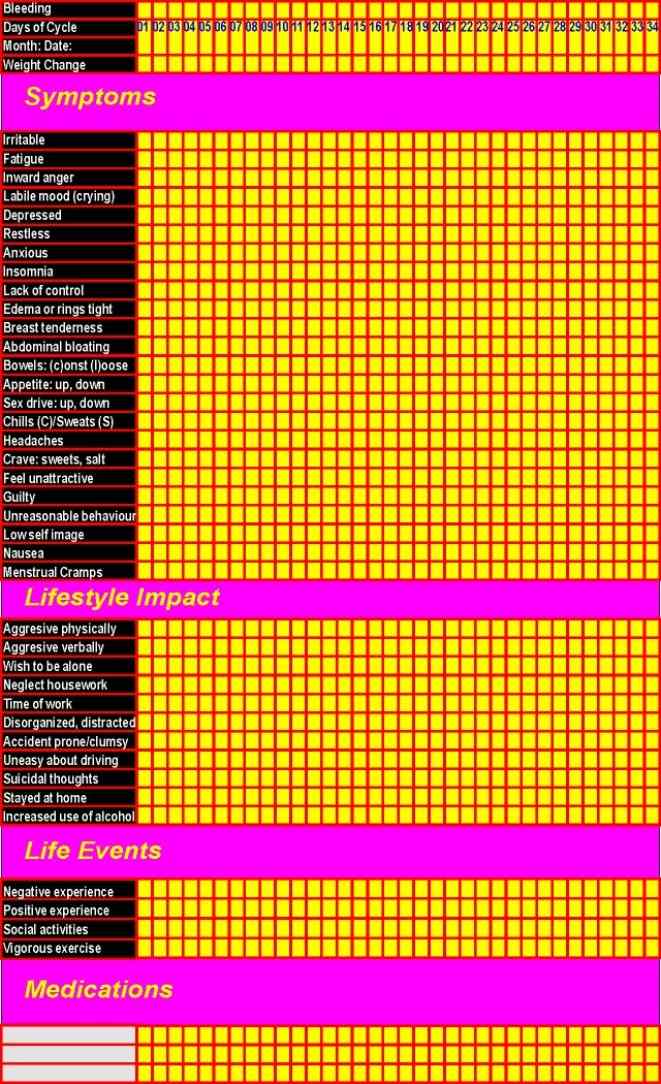 Instructions for Completing this Calendar:
On the first day of menstruation prepare the calendar: Considering the first day of bleeding as day 1 of your menstrual cycle enter the corresponding calendar date for each day in the space provided below.
Each Morning: Take weight after emptying bladder and before breakfast. Record Weight Change from baseline.
Each Evening: At about the same time complete the column for that day as described below.
Bleeding: Indicate if you have had bleeding by shading the box above that days date ( ). For spotting use an [x].
Symptoms: If you do not experience any symptoms leave the corresponding square blank. If present indicate severity.

Mild-1: Noticeable but not troublesome.
Moderate-2: Interferes with normal activity.
Severe-3: Temporarily incapacitating.
Lifestyle Impact:

If the listed phrase applies to you that day enter an [x].
Life Events: If you experienced one of these events that day enter an [x].
Experiences: for positive (happy) or negative (sad or disappointing) experiences unrelated to your symptoms specify the nature of the events on the reverse side of this form.
Social Activities: imply events such as a special dinner, show or party etc, involving family or friends.
Vigorous Exercise: implies participation in a sporting event or exercise programme lasting more than 30 minutes.
Medication: In the bottom 3 rows list medications if any and indicate days when taken by entering an [x].

---